Diana Wacker Klein '05 + Austin Klein '06
Diana Wacker Klein '05 + Austin Klein '06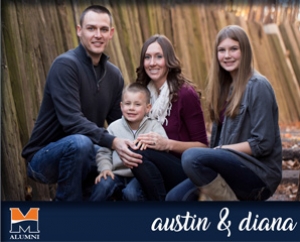 Anniversary Date: June 10, 2006
Love Story: Austin and I had known each other before either of us attended Midland. One of the girls from his high school had moved to my hometown her junior year and was in my class. Of course we wanted to meet all of her friends and Austin was one of them. During my freshman year I remember him coming to visit on a basketball recruit today and thinking that would be cool if he ended up coming to Midland.
With him playing basketball and myself playing volleyball we spent most of our time in the gym and really just hanging out as friends our first few years on campus together. During my junior year he took me out on a date on Valentine's Day and we started dating a week later. His sister Candace (who is also a Midland Alum) and I spent many hours in a car driving to all of his basketball games his junior and senior years. So many great memories! We got engaged in May of 2005 and were married in June of 2006, right after Austin graduated. After living in Papillion for 7 years we moved to Southwest Nebraska and are enjoying it so much.
We are so thankful for our time at Midland and the countless memories and friends we have made!