Jennifer Rosales Gegzna '15 + Jared Gegzna '15
Jennifer Rosales Gegzna '15 + Jared Gegzna '15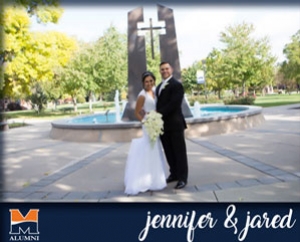 Anniversary Date: October 15, 2016
Love Story: Jennifer and Jared met at Midland University at their New Student Registration Day as incoming freshman. They began dating during Warrior Welcome Days and were together all throughout their time at Midland. Jennifer was very involved at Midland including being a member of the Dance Team, Phi Beta Lambda business organization, President of the Alpha Lambda Delta National Honor Society, Historian of Cardinal Key National Honor Society, 2014 Homecoming Queen, and being a Resident Advisor. She also is a graduate of the Midland University MBA program. Jared was an Athletic Training major and also played football for Midland.
Jennifer and Jared now both are employed by and live at the University. Jennifer is the Career & Alumni Relations Coordinator and Jared is a Residence Hall Director. They were engaged the summer after graduation on the 4th of July and married October 15, 2016 at St. Patrick's Catholic Church in Fremont, Neb.
The wedding party included many other alums: Mason Gegzna, Groomsman '14; Grant Ahern, Groomsman '15; Michael Chick III, Usher '15; Molly Gegzna (Koneck), Personal Attendant '14; Jessica Ahern (Hampton), Personal Attendant '15; Fran Adrianto, Soloist '16; Amanda Smith, Guest Book Attendant '15.