Jessica Janssen
Jessica Janssen
Vice President for Development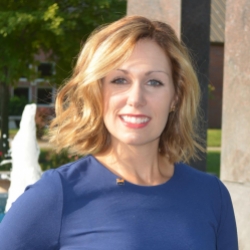 Raised as a "small town girl" hailing from roots in Beemer, Nebraska and becoming a true Fremonter at a very early age, Jessica grew to understand the importance of faith, family, hard work, and community. These values are what have propelled Jessica's career choices and have led to a meaningful profession in philanthropy and non-profit management. Jessica describes God's hand at work in the blessing to come back to the Fremont community in 2010, as executive director of the Fremont Area Community Foundation (the same year her son was born) after serving the Omaha performing and visual arts community as a development professional.
It was during her time with the Fremont Area Community Foundation that Jessica became inspired by the Midland University story. After years of playing a supporting role through community support and advocacy for its mission, and receiving her MBA through the Midland University hybrid program, she was asked to join the team at Midland officially as the Vice President for Development in 2015. Jessica believes in the importance of service to community, and has held positions on the Boards for Metropolitan Community College Foundation, Fremont Rotary Club, Fremont Area Young Professionals, and the Fremont Area Chamber of Commerce Foundation. She currently sits on the statewide Boards for Thrivent Financial and Humanities Nebraska.
Jessica describes her first and most important role in life as "mom" to Jett, an energetic, loving, and inquisitive six year old. She is loving this phase of life which also includes chaperoning Kindergarten field trips, memorizing bible passages for homework at Trinity Lutheran School, and the occasional finger painting.