Kat Ohm Sodawasser '15 + Andrew Sodawasser '14
Kat Ohm Sodawasser '15 + Andrew Sodawasser '14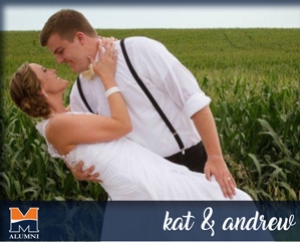 August 1, 2015
Love Story: Andrew and Kat met at Midland through the Arts department. The odd thing is that neither of them originally intended on going there, as Andrew transferred in from Montana State University and Kat transferred from The Young Americans performing arts school. They both chose Midland because they both have some of the same passions. While at Midland, both participated in multiple aspects of the Arts (Choir, Band, Clef Dwellers, Jazz Band, Musical Theatre, etc.) It was there that they developed a strong friendship and started hanging out in the same circle of friends every day, and then shortly after about a year of this friendship, decided that there was something stronger than friendship happening. After a little over a year of dating, Andrew proposed, and it was a no-brainer.
Currently, Andrew and Kat reside in Fremont and have still been great supporters of the Midland Arts department. Andrew is a Behavioral Specialist at the Munroe-Meyer Institute in Omaha and is pursuing his Master's degree in Applied Behavioral Analysis at UNO, but has returned to Midland to assist current students on set design, lights, and sound for musical productions. Kat is currently serving as a Graduate Assistant for Vocal Music here at Midland, and will graduate in August with a Masters of Education degree.
Andrew and Kat will celebrate their second anniversary in August, and cannot wait for what the future holds. Thank you, Midland for bringing us together!