Kristen Drake
Kristen Drake
Alumni Coordinator and Events Specialist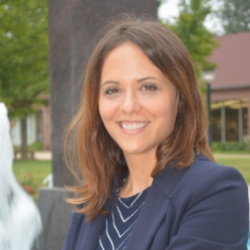 Kristen has been channeling the Warrior spirit since joining the development team in October 2015 as Alumni Coordinator and Events Specialist. Instead of dividing her time between what she loves and how she works, she believes in combining the two to make a career. An early love for non-profit work led to a career in fundraising and volunteer management. Later, Kristen was able to serve the community in a more active role as a service learning administrator at a small college in Iowa, coordinating service learning opportunities and engaging college students through volunteer work.
Her passion for helping students and alumni connect with each other, the University, and the community is what led to a move into the alumni office at Midland. Primarily her role is to coordinate new and existing programming for alumni, serve as the alumni relations representative within the Midland community, manage external communication with alumni, and coordinate events for both the alumni and development offices.
It's a family affair for Kristen at Midland as her husband, Oliver Drake, coaches the men's basketball team and teaches on campus. Midland is a second home to their two children, Sebastian (6) and Stella (2), who can often be seen dancing in the stands, running the halls, and cheering on the Warriors during athletic events in their orange and navy. The Drakes reside in Fremont.