Marie E. Crom
Marie E. Crom
Wednesday, August 23, 2017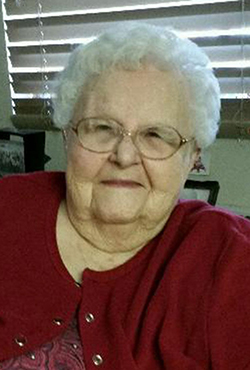 Funeral services will be held Thursday, Aug. 24, 2017, 1 p.m. at First Evangelical Lutheran Church in Oakland, Neb., for Marie E. Crom, 93. She died Tuesday, Aug. 15, 2017, at Good Shepherd Lutheran Community in Blair, Neb. Visitation will be held one hour prior to service at the church.
Marie was born December 2, 1923, in Tekamah, Neb., to George O. and Amy (Johnson) Nelson. She attended country schools and graduated from Oakland High School. She went on to attend college at Wayne State and Midland College. She taught at various local schools. After several years of teaching, she moved to Omaha, Neb., and went to work for Brandeis. She took a comptometer course and then went to work for Paxton and Gallegher.
On March 19, 1950, Marie was married to Clarence E. Crom at First Evangelical Lutheran Church in Oakland. They lived in Exira and Audubon, Iowa, before moving to Onawa, Iowa, in 1959.
Marie was active in her church, was a Cub Scout Den Mother for many years and was a leader for Camp Fire Girls and 4-H.
Clarence and Marie lived in Platte City, Mo., for a couple of years before moving to Santa Fe, N.M., in 1981. Marie returned to Omaha in 1994, after the death of her husband.
She was preceded in death by her husband; parents; infant brother, Warren; brothers, Lester and Kenneth; and sister-in-law, Ann.
Marie is survived by her children, Richard (Terry) of Omaha, Paul (Linda) of Holdrege, Neb., Roger (Debra) of Bennington, Neb., Sharon (Hilbert) Hurd of Enterprise, Ala., Carol of Colorado Springs, Colo.; seven grandchildren, Michael of Holdrege, Anthony (Michele) of Lincoln, Neb., Amy Crom and Julie (Jeoffrey) Emert of Council Bluffs, Iowa, Sarah (Matthew) McGlynn of Omaha, Stephanie (Jeremy) Stacy and Bradley Hurd of Oxford, Ala.; ten great-grandkids, Brandon and J.D. Crom of Lincoln, Adam Crom, Logan and Ian McGlynn, and Austin Busse of Omaha, Liam, Olivia and Charlotte Emert of Council Bluffs, Ethan Stacy of Oxford; brother, Howard (Carol) Nelson of King George, Va.; sister, Phyllis (Glenn) Barth of Elkhorn, Neb.; sisters-in-law, Joyce Nelson of Lakeland, Fla., Emma Crom of Bend, Ore.; and several nieces, nephews and cousins.
Burial is at Tekamah Cemetery, Tekamah.
Memorials may be directed to Good Shepherd Lutheran Community Foundation.
Originally published in the Burt Co. Plaindealer on August 23, 2017.