Nichole Owsley
Nichole Owsley
Director of Capital Campaign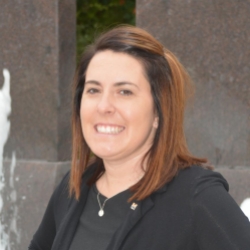 Nichole is the Director of the Capital Campaign at Midland University and a native of the BEST small town in Nebraska, Fremont! Nichole has a passion for the community, and spends time listening to how the Fremont community and Midland can unite for common goals and to make both great places to live, learn and grow. Prior to Midland, Nichole worked for Verizon in corporate sales for 8 years; she loved the job and the people in the communities, but always wanted to do something she was more passionate about. After a quick move to Fort Worth, Texas, the Owsley's decided the big city was not for them and moved back to Fremont, Nebraska and Nichole landed her dream career at Midland University.
While growing up her parents were very involved in the community, and she quickly learned to love the perks of a small town. Nichole met Jason, her husband, about 12 years ago and got married on 07/07/07. They have an adorable 8 year old daughter, Lauren, who has a heart of gold and loves a few things in life; dance, gymnastics, Midland University Cheerleaders, and her family. William Perry is the youngest, he is 3 years old and loves "big diggers", Batman and their dog Louie. William is loud, busy, tough and rowdy...total boy.
Nichole takes after her dad being very active in the community, below are a few accolades she is proud of outside of her career and being a full time mom: Currently on the Board of Directors for Main Street Fremont; Currently on the Board of Directors for Fremont Area Young Professionals; Midland University Bachelor of Science in Business Administration May 2011; Graduated of Leadership Fremont May 2016; Midland University MBA December 2016; Certification in Fundraising Management November 2016.