The Rev. Dr. Paul L. Rowoldt
The Rev. Dr. Paul L. Rowoldt
Saturday, September 9, 2017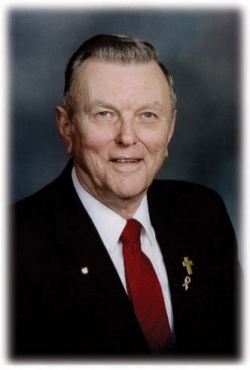 The Rev. Dr. Paul L. Rowoldt, 89, of Columbus, died Tuesday, Sept. 5, 2017, at Columbus Community Hospital.
A funeral service will be held 10:30 a.m. Tuesday, Sept. 12, at Peace Lutheran Church in Columbus with the Revs. Cory Burma, Kenton Birtell, Michael Klatt and Brad Birtell officiating. Interment with military honors by the American Legion Hartman Post 84 Honor Guard will be in Fremont Memorial Cemetery in Fremont. Visitation will be 4-7 p.m. Monday at Gass Haney Funeral Home in Columbus and 9:30-10:30 a.m. Tuesday at the church.
Memorials may be directed to Mission Central in Mapleton, Iowa, or the American Legion Hartman Post 84.
Paul Louis Rowoldt was born Oct. 21, 1927, to Paul M.L. Rowoldt and Emma (Garnich) Rowoldt in Egg Harbor City, New Jersey. After high school, he enlisted in the Regular Army. He received the World War II Army of Occupation medal Japan. He was honorably discharged on Sept. 7, 1947.
In 1949, Paul enrolled in the Pre-Seminary Program at Midland Lutheran College in Fremont. There he also attended Central Lutheran Theological Seminary, graduated and was ordained in 1955.
Paul met Marian Meyer at Midland College and they were united in marriage on June 22, 1952. Together they served many churches throughout Kansas and Nebraska.
Although Pastor Rowoldt retired from active ministry in 1985, he continued to serve as chaplain for the American Legion, received his Doctorate of Ministry, and had a private counseling practice in Columbus for 13 years. In his retirement, he also served as a supply pastor for various churches in the area.
He will be remembered by many as a man who loved people. Your status didn't matter. He would greet you with a smile and asked how your day was going.
He is survived by his wife of 65 years, Marian; son, Tim; daughter, Ruth (Nathan) Larson; two grandsons, Nikoli and his wife Candy and Adam and his wife Jeanine; and two great-grandchildren, Malia and Elliot.
Condolences may be sent to www.gasshaney.com.
Published in the Columbus Telegram on September 9, 2017.