Sara Paseka Ellis '09 + Brock Ellis '10
Sara Paseka Ellis '09 + Brock Ellis '10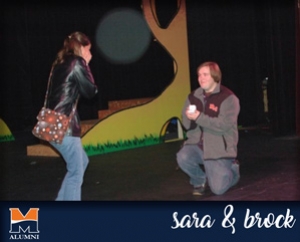 Anniversary Date: August 14, 2010
Love Story: We met in 2006 during the theater production of "Mother Courage and Her Children." She had the uncanny ability to burp on command which I found delightfully attractive. Our first un-official date happened during a C.A.B Free Movie Night where we went to see Borat. (I swear, we're much classier people that our origin story leads you to believe we are.) We dated for two years and enjoyed lots of late night library studying, theater rehearsals, and ping-pong games before Brock decided to pop the question. He did it on the exact spot where they met - the stage and Kimmel theater.
Right after a Saturday night performance of 'Seussical: The Musical' where Brock played Horton the Elephant, both families secretly congregated in the front rows, the lights were turned down, and Brock led his bride-to-be to center stage. He knelt to one knee and immediatly got "Holy crap!" as her answer. To this day, we just assume that response was an emphatic "yes".
Seven years later, we have 2 children (future Beta Sigma Psi and Tri Phi legacies) and live in Fremont. We still love our alma mater, bleed orange, and make it back to as many events as we can.