Carmen Frickenstein '78
Carmen Frickenstein '78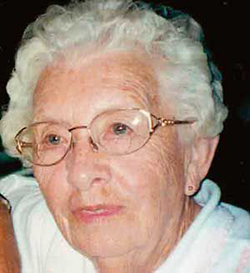 Services for Carmen L. Frickenstein, 97, of Creighton will be at 10:30 a.m. Friday, Aug. 18, at St. Ludger Catholic Church in Creighton. The Rev. Jeremy Hans will officiate with burial in the parish cemetery.
Visitation will be 4-8 p.m. Thursday at Brockhaus Funeral Home in Creighton with a 7:30 p.m. wake.
She died Wednesday, Aug. 9, 2017, at Avera Creighton Care Centre.
Carmen Lavonne Frickenstein was born on March 20, 1920, to Blanche (Fulton) and Henry Thompson. The family lived near Elgin, Brunswick and later settled in the Creighton area. She had a brother, Arden, and a sister, Mardelle. She attended grade school in Brunswick and graduated from Creighton High School in 1937.
On May 2, 1941, Carmen was united in marriage to Joseph "Joe" Frickenstein of Creighton. They lived all of their married life in the house Joe built in Creighton. They were blessed by a daughter, JoAnn, in 1948.
Carmen received her bachelor's degree in elementary education from Midland Lutheran College in Fremont in 1978. She taught at Winnetoon and later at Creighton Public schools as a fifth and sixth grade teacher until retiring in 1983.
Carmen was active in her community with the city tree board, park flower board and mentoring students in her home. She loved gardening, quilting and tending to her flower and butterfly garden. She had a great love for trout fishing. She fished the stream at Grove Lake for many years with her lifelong friend and teacher, Eloise Johnson.
She is survived by her daughter, JoAnn (Galen) Bergh of Plainview; grandson Ryan (Tiffany) Bergh of Omaha; grandson Nathan (Erin) Bergh of Omaha; granddaughter Amy (Steve) LaBay of White, S.D.; and five great-grandchildren, Brayden, Abel, Oliver, Vance and Harlan.
She was preceded in death by her spouse, parents, brother and sister.
Originally published in the Norfolk Daily News on August 15, 2017.