Dennis J. "Denny" Zakovec
Dennis J. "Denny" Zakovec
Tuesday, September 12, 2017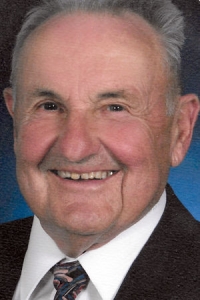 Dennis J. "Denny" Zakovec, 91, of Fremont passed away on Tuesday, Sept. 12, 2017, at Nye Legacy, surrounded by family.
Denny was born on Dec. 27, 1925, in Morse Bluff to James and Winifred (Macholan) Zakovec. The family moved to Fremont when Denny was 2. He graduated from Fremont High School in 1944 and enlisted with the U.S. Army Air Corps on Feb. 3, 1944. He was commissioned as a navigator on Aug. 24, 1945. Upon his discharge in 1946, he attended Midland Lutheran College.
In 1947, Denny entered into partnership with his father in the retail liquor business. In 1968, he relocated "Denny's" to 16th and Bell streets in Fremont. During the next several decades, Denny purchased and developed many commercial real estate properties in Fremont. He retired from the retail liquor business in 1998 after 51 years. In his retirement, he enjoyed overseeing and improving a family farm. Denny married Ardes Oakeson of Wahoo on April 15, 1950, in Fremont. They made their home in Fremont and welcomed two daughters, Patricia Ann in 1962, and Jan Elizabeth in 1968.
In the 1950s, Denny played baseball with the Pioneer League in Wahoo, Schuyler and Fremont. Later in life, he played slow-pitch softball with the Nebraska Senior Softball League well into his 80s. The League awards a "Denny Zakovec Spirit Award" annually to commemorate Denny's youthful enthusiasm for the game. Denny was an avid outdoorsman and enjoyed duck hunting and fishing. Denny and Ardes enjoyed attending Midland University functions, especially basketball games, and supported the University in various ways. Denny loved spending time with his children and grandchildren. He was a benevolent lover of people.
Denny was a member of St. Patrick's parish in Fremont for many years, before attending Trinity (Life Gate) Interdenominational Church in Omaha. He joined Westside Baptist Church in Omaha in 2000 after returning from a trip to Israel, where he was baptized in the Jordan River. Since his move to Nye Legacy in December 2014, he has enjoyed visits from Sinai Lutheran Church.
Denny is survived by daughters and sons-in-law Patty and Steve Carr of Fremont and Jan and Chuck Sinclair of West Des Moines, Iowa; grandchildren, Natalie and Justin Zabrocki of Omaha, Hilary Carr and Rachel Goerke of Omaha, Graham Carr of Arlington, Hannah Sinclair of Seville, Spain and Rachel Sinclair of West Des Moines; and great-granddaughter Hazel Anne Zabrocki of Omaha.
He was preceded in death by his wife, Ardes; parents, James and Winifred Zakovec; and brother 1st Lt. Eugene Zakovec.
Memorials may be made to Nebraska Senior Softball Association or Midland University.
Visitation will be from 5-8 p.m. Friday, Sept. 15, 2017, at Dugan Funeral Chapel.
The funeral will be at 9 a.m. Saturday, Sept. 16, 2017, at Sinai Lutheran Church. Pastor Al Duminy will officiate.
Published in the Fremont Tribune on September 12, 2017.