Morgan Beighley Savio '15 + Dominic Savio '13
Morgan Beighley Savio '15 + Dominic Savio '13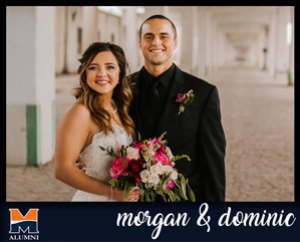 Anniversary Date: April 29, 2017
Love Story: Dominic and Morgan met each other Dominic's senior year at Midland University in 2013 through a mutual friend's get-together, later finding out that they had a class together with each other. They spent a lot of time together with their friends and each other just getting to know each other while together at college. After Dominic graduated, they officially started dating.
A lot of time was spent together over the next few years while Morgan was finishing her degrees and Dominic was starting his career. After about two years of dating and the fall of 2015 after Morgan graduated, Dominic asked Morgan to marry him while getting photos with them and their dogs.
After a year and a half of being engaged, Dominic and Morgan were married at St. Patrick's Catholic Church on April 29, 2017.