Scholarships
Scholarships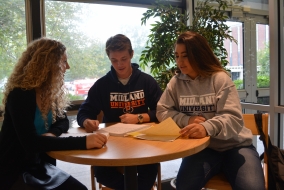 Thanks to the vision and generosity of many donors, Midland University offers a variety of scholarships with varied and diverse criteria. When you give to student scholarships at Midland University, you help offset the cost of education and open up opportunities for students who, due to financial pressures, would be unable to obtain an undergraduate degree.
We encourage you to browse our descriptions of the various scholarships to learn more about the donors and their intent in establishing these scholarships. If you are interested in establishing a scholarship, please contact Jessica Janssen at 402-941-6523 or janssen@midlandu.edu.
Lorin J. and Merlyn E. Wolff Scholarship
This scholarship is awarded to students who are deemed worthy and are in need of scholarship assistance. First preference shall be given to students pursuing careers in teaching, nursing or the work of the church.
Ted Youngerman Endowed Scholarship
This scholarship was established in 2002 by family and friends following Ted's passing. The scholarship is to be awarded to a senior pre-theological student in good standing.
Dennis & Ardes Zakovec Nursing Scholarship
The scholarship shall be awarded annually to a student with solid academic background who has demonstrated strong moral character, leadership, and a commitment to the nursing profession.
William F. and Meta Zimmerman Memorial Scholarship
This scholarship was established by William F. and Meta Zimmerman out of gratitude to God. It is to be awarded annually to a minority student.
Pages