Sherolyn House Bishop '69 + Vaughn Bishop '69
Sherolyn House Bishop '69 + Vaughn Bishop '69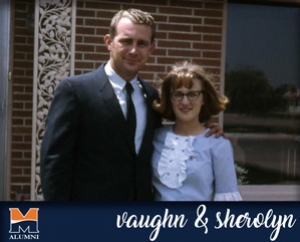 Anniversary Date: January 4, 1969
Love Story: I had attended Midland from Sept. 1962 through May of 1964. I then put in a couple of years in the Navy and returned to Midland in January of 1967 and met Sherry House in the fall of 1967. Our first date was Homecoming that fall. We continued to date and we became engaged in North Platte, NE on July 25, 1968, Sherry's birthday. We were married January 4, 1969 in North Platte during our semester break and during one of the snowiest winters ever. We didn't think many of our attendants and guests would be able to make it but somehow almost all made it to our wedding, even my uncle's family from Kansas City, Kansas.
Our Midland Family Connections
My mother, Elaine Roberta Miller and my father, Walter Douglas Bishop, Jr. met at Midland during WWII and were married shortly after graduation.
My grandmother, Dora Albers and my grandfather, William A. Miller met at Midland when the college was located at Atchison, Kansas. They were also married, while my grandfather graduated, my grandmother completed only two years.
My grandfather's sister, Josephine Miller, a life-long resident of Fremont, NE graduated from Midland.
My mother's sister, Wilma Miller, graduated from Midland.
My father's brothers, Lorence Bishop graduated and Julian Bishop attended several years but entered WWII before graduation.
Our two daughters, Kendra L. (Bishop) Conkle and Keri A. Bishop (Mangers) also graduated from Midland.