Warrior Wednesday Q&A with Alphonce Shiri '99
Warrior Wednesday Q&A with Alphonce Shiri '99
Wednesday, December 6, 2017
What year did you graduate and what was your major?
I graduated in May 1999 and my major was Business Administration with Accounting Concentration.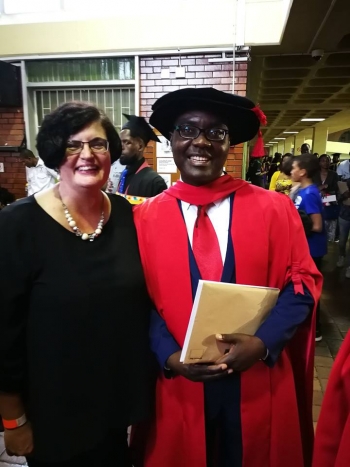 What are you doing now and where?
I am a Senior University Lecturer at Zimbabwe Open University in Zimbabwe, Southern Africa. A University Lecturer is similar to what you call a college or university professor or faculty in America. The grading is Assistant lecturer, Lecturer, Senior lecturer, Associate professor, and full professor. So I am working towards becoming an Associate Professor.
How did your experience at Midland prepare you for your career?
Midland provided the foundation of my success as an Accountant and an Academic. The Midland experience enabled me to become a proficient accountant and an astute academic which landed me the opportunity to work as a Medicare Auditor for Mutual of Omaha, A Retirement Account Specialist at Ameritrade and an Adjunct Faculty, teaching Accounting at Metropolitan Community College. Furthermore the academic grounding at Midland prepared me for future education that enabled me to attain an MBA and recently a PhD from one of the top universities in South Africa and on the African continent.
Did a particular faculty member leave a lasting impression on you?
Yes, Dr. Shadbolt was an excellent teacher and I was inspired.
What is your fondest memory of Midland?
The Midland community was welcoming and friendly. Remember I was thousands of miles away from home, being from Africa, and Midland was like a home away from home. I think sports activities at Midland kept us healthy, occupied and we had lots of fun. I ran cross country and played soccer. It was awesome.
How do you spend your leisure time? Any hobbies?
I write. I have contributed book chapters to three books and am planning to write a full book on my own, now that I have the experience. My other hobby is watching movies with my kids (they are in elementary school, so we watch cartoon movies like The Minions, Despicable me, The Nut Job 2, etc.)
List any family information you would like to include.
I am happily married to Peregia and we have 3 daughters, a nine years old, a seven years old, and a one-year- old daughter. I have a son who is twenty years old from a previous marriage.
How do you stay connected to Midland?
I normally browse the Midland website to read news and see what's new.
Fun or interesting fact about you:
My desktop is always cluttered. It was worse during my PhD studies.