August 2017 Midland Minute
August 2017 Midland Minute
Thursday, August 31, 2017
A note from the President...
The start of the fall semester is one of the most exciting times of the year. We were thrilled to see students all across campus with the start of classes last week, and this week we celebrated with our first-year students during Convocation.
I would like to personally invite you to join us from September 14th-17th during Midland's Homecoming and Family Weekend. This is the first year this event has been expanded to include activities for all ages. We look forward to celebrating the Warrior Tradition with alumni, parents, families and friends of Midland during the weekend.
Thank you for making Midland University a vibrant living and learning community.
---

Midland University Homecoming and Family Weekend
Join us September 14th-17th for Homecoming and Family Weekend! This is a time for Midland families, alumni, students, and friends of the university to attend events, connect with classmates, and cheer on the Warriors! Visit our website to learn more about the weekend events at alumni.midlandu.edu/homecoming.
---
Knudson Family Selected as 2017 Distinguished Midland Family
Midland University is proud to recognize the Dr. Keith and Beryl Knudson family as a Distinguished Midland Family for the four generations of involvement and investment in the life of Midland University.
The Distinguished Midland Family Award recognizes families with multi-generational investment in the lives of Midland University and Midland students. This award celebrates Midland's rich academic heritage by honoring a family with close and loving ties to Midland as students, parents, professors, administrators, and friends. These families embody the ideals of Midland in service to God, to Church and society; paying tribute to past accomplishments and future dreams.
---
Hall of Fame Inductees and Alumni Award Winners Announced
On Friday, September 15th, the 2017 Hall of Fame Inductees and the 2017 Alumni Award Recipients will be honored at the Midland University Awards Reception and Ceremony. The event will be held at Hopkins Arena in the Wikert Event Center. The Hors d'oeuvres Reception will begin at 5:00 p.m., followed by the Awards Program at 6:30 p.m.
2017 Athletic Hall of Fame Inductees: 1987 Warrior Football Team
Alumni Achievement Award: Jeff Max Scherer '87
Outstanding Young Alumni Award: Dr. Sharlay Bu tler '10
---
Updated Dining Hall Unveiled
When students arrived on the Midland University campus this month, they discovered a remodeled dining hall designed to better serve them. This project is the second phase of a $1.5 million renovation of campus dining and common spaces that began when Fresh Ideas partnered with the University to provide food service.
Students will enjoy a variety of welcoming spaces to eat and hang out as well as a new array of serving stations. There is new flooring, new lighting and new seating, including nine-foot oak tables and countertop seating.
---
Former Husker Jeff Jamrog Looks to Keep Midland on Upswing
From the Omaha World-Herald
The Midland University football team has seen a lot of changes since Coach Jeff Jamrog became the head coach in 2015. Midland went 7-4 last season, the team's first winning season since 2011, and he looks to keep that momentum on the upswing as Midland kicks off its 2017 season Saturday with a trip to play Friends University in Wichita, Kansas.
---
Midland Football Alumni Reunion
Join us at the Midland Football Alumni Reunion during this year's Midland University Homecoming Celebration. This will be a great time to return to Fremont, reconnect with old teammates and meet the coaching staff.
Saturday, September 16th
4:00 p.m./Post-Game
The Gathering Social Hall
750 N. Clarmar Ave.
---
Fremont Health and Midland Partner to Create Simulation Lab
Fremont Health and Midland University have announced plans for a state-of-the-art Simulation Laboratory, which will provide hands-on learning for nursing students, Fremont Health staff, and healthcare professionals throughout the area. Located at Fremont Health, the simulation lab will provide a practice environment that will feature technologically advanced computerized manikins that simulate real-life scenarios within a clinical setting.
---
Jack Noel Forges his Own Path to Success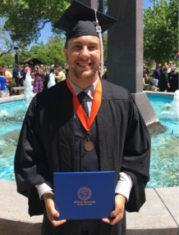 Dream big, plan big, win big! When your ultimate dream job is to train Olympic athletes, you have to create a plan to reach that goal. Jack Noel has been working on that plan while at Midland, forging his path to success.
Noel graduated in May, earning his degree in Human Performance with a concentration in Exercise Science. His love of competition and desire to major in Human Performance led him to Midland, where he was a member of the football team. In addition to playing football, he took on the role of Admissions Ambassador at Midland. This involvement helped him hone his communication and relationship-building talents and to develop his capacity to juggle and prioritize commitments and to manage time effectively.
---
Share Your Story With Us
We love hearing about the fantastic things that our alumni are doing after graduation. We have had many inspiring and talented alumni share their stories with us, and we want to feature your story! Fill out this form with your story and you could be featured on our website or in a future publication!