Knudson Family Selected as 2017 Distinguished Midland Family
Knudson Family Selected as 2017 Distinguished Midland Family
Thursday, September 14, 2017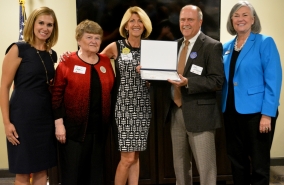 The Distinguished Midland Family Award recognizes families with multi-generational investment in the lives of Midland University and Midland students. This award celebrates Midland's rich academic heritage by honoring a family with close and loving ties to Midland as students, parents, professors, administrators, and friends. These families embody the ideals of Midland in service to God, to Church and society; paying tribute to past accomplishments and future dreams.
This year Midland University is proud to recognize the Knudson family as a Distinguished Midland Family for the three generations of involvement and investment in the life of Midland University.
This relationship began with Keith Knudson in 1962. Dr. Knudson taught for 32 years and retired in 1994. He served as the divisional chair of Humanities, advisor for Bits of Flint and great debater of pumpkins with Dr. Christensen. Many would know Dr. Knudson for his puns, buttons, and serenading campus with Christmas music. Dr. Knudson's tenure would lead to two of his three children, Joel and Tara, and one grandchild, Brett, attending Midland University.
Joel Knudson graduated from Midland in 1981 and received both a degree and family through Midland, having met his wife Patty at Midland University. Joel's son, Brett Knudson, currently attends Midland University as a senior.
Tara Knudson Carl graduated from Midland in 1985 and received the Young Alumni Award in 1996. She served on the Alumni Board from 1998 through 2004. Dr. Tara Knudson Carl later served as Vice President for Student Development from 2004 until 2008.
The Knudsons were honored during the Victory Society Banquet on Thursday, September 14th.