Warrior Wednesday Q&A with Brenda Meier Kimaro '93
Warrior Wednesday Q&A with Brenda Meier Kimaro '93
Wednesday, August 2, 2017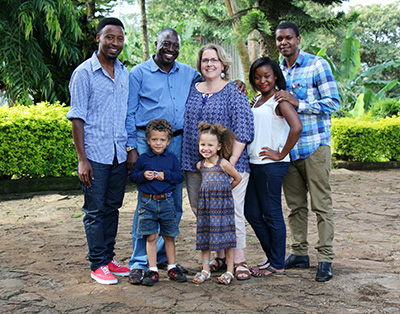 Warrior Wednesday: A fun way to catch up with Midland alums! This week's Q&A is with with Brenda Meier Kimaro '93.
What year did you graduate and what was your major?
I graduated in 1993; major was journalism, minors in art and English.
What are you doing now and where?
My husband and I own and operate Tanzania Choice Safaris in Arusha, Tanzania. I am also a freelance photographer and writer specializing in missions and humanitarian work in East Africa.
How did your experience at Midland prepare you for your career?
While at Midland I felt called to work in ministry. For the first 20 years of my career, I used the communication skills I learned as a journalism major to serve in communications and fundraising for several outstanding Lutheran ministry organizations, and continue now in my freelance work for ministry organizations working here in East Africa. I also use the photography, communications and marketing skills I learned at Midland in growing our safari business.
Did a particular faculty member leave a lasting impression on you?
Marilyn "Mrs. P" Peterson, who at the time was head of the journalism department, was the person who inspired me to go to Midland and major in journalism. She always encouraged me to stretch myself and take on new challenges such as serving as the editor of The Midland yearbook.
Dr. Darlene Ritter is also someone I deeply appreciate having learned from at Midland. She was a tough professor and, although I was mostly an A student in high school, I really struggled to get even a B from her in the English courses I took with her. I took most of my courses required for my English minor with her and I made it my ultimate goal to earn an A from her, which I finally did in her Plains Literature class, the last class I was scheduled to take from her in my five years at Midland!
What is your fondest memory of Midland?
The camaraderie with other journalism majors as we worked late nights and weekends to meet publication deadlines for the school newspaper and yearbook. Several of my Midland friends also worked with me during the summers for Nebraska Lutheran Outdoor Ministries as church camp staff and it was great to share those summer months with them as well as the school year.
How do you spend your leisure time? Any hobbies?
I really enjoy photography, which I first really got into while taking photography courses at Midland as part of my major. I share a lot of my photos and stories about life in Tanzania on my blog at www.thejoyoflifeislove.com. As a family we enjoy spending long weekends and holidays on our coffee and banana farm on Mt. Kilimanjaro. It's great to get away from the busyness and crowd of the city to just enjoy the local village where my husband grew up.
Family information you would like to share:
My husband Kakasii, a native Tanzanian, and I got married in 2010. We have five children—our oldest son Ombeni is a lawyer in Arusha, our middle son Godson is a university student and our older daughter Brenda will soon be starting university. Our youngest two are twins—Max and Elly. They are in kindergarten.
How do you stay connected to Midland?
Living overseas, Facebook is like a lifeline to friends and family back home and also a way to keep up on what's happening at Midland. In August 2016 when I was back in the States for a visit, I had the opportunity to join an alumni meet-up that just happened to be taking place close to my hometown of Wakefield, Nebraska, while I was there. I also made a visit to the campus during that trip and met with a few students, faculty and staff who had just traveled to Tanzania earlier that year. I hope there will be opportunities in the future to connect with Midland students when they travel to Tanzania!
Fun fact about you:
I was featured on an episode of House Hunters International on HGTV about my move from Baltimore, Maryland, to Tanzania. The show originally aired in April 2015 but continues to be broadcast all over the world so we often hear from people who have seen us on the show. Some have even traveled to Tanzania to go on safari with our company!