Warrior Wednesday Q&A with John Richard '75
Warrior Wednesday Q&A with John Richard '75
Wednesday, August 16, 2017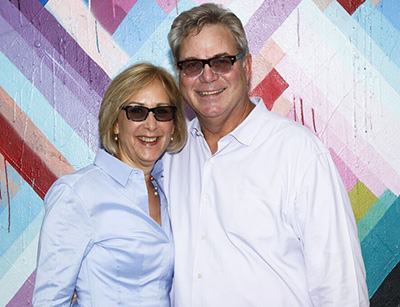 What year did you graduate and what was your major?
Graduated 1975 back in the 20th Century. My major was Behavioral Science.
What are you doing now and where?
In 2008 following 19 years of building and operating the New Jersey Performing Arts I Became the President and CEO of the Adrienne Arsht Center for the Performing Arts in Miami Dade County Florida.
How did your experience at Midland prepare you for your career?
Midland is where I grew up. A special four year growth process that infused meaning, curiosity, and an appreciation of learning derived from a holistic liberal arts education. Most significant of all I met my wife Lynne Foster for the first time in a Religion and Culture class in 1972.
Did a particular faculty member leave a lasting impression on you?
The all star faculty caused me to become thoughtful about subjects in the class room and the application of challenging stereo typical thinking in the world outside. Dean Steyer, Ken Branch, Donald Moore, and Robert Therien delivered the content masterfully and I was the beneficiary of their knowledge transfer. Both Alcyone Scott and Steve Birchall were influential forces of nature on campus. So I take this opportunity to say thank you.
What is your fondest memory of Midland?
The big pivot for me was when I decided to run for Student Senate President. The fact that I won is still a surprise to me. The outcome became an encouragement in life to take risks when I am passionate about ideas. Don't lower the bar and miss.
How do you spend your leisure time? Any hobbies?
I have had the good fortune to learn everyday on the job. Music, dance and theater remain central to my professional work and serve as a hobby of sorts with exposure to the greatest artists in the world. After all a hobby should be inspirational and serve to motivate a lofty quality of life.
Family information you would like to share:
Lynne and I have been married 39 years. Lynne is the Dept. Chair of OT at Florida International University. Our daughter Rachel is a social worker and son Aaron is an elementary school teacher. Aaron and Mabel have two boys Jacob and Landon. Rachel and Sergio have their daughter Callie. Being grandparents is the most awesome part of celebrating life these days.
How do you stay connected to Midland?
I like to read the President's messages and newsletters from Midland. We recently self-toured the campus on Memorial Day weekend while visiting the Foster family in Omaha.
Fun fact about you:
We have a family dog rescued from a kill shelter. She is a mixed border collie. I named her Sissy after the main character Sissy Hankshaw in Tom Robbins novel "Even Cowgirls Get the Blues." Some of my classmates will understand.