Warrior Wednesday Q&A with Kirsten Klitz Owens '14
Warrior Wednesday Q&A with Kirsten Klitz Owens '14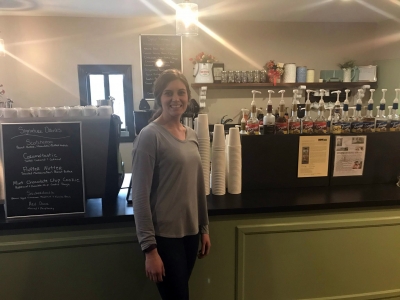 Warrior Wednesday: A fun way to catch up with Midland alums! This week's Q&A is with Kirsten Klitz Owens '14.
What year did you graduate and what was your major?
I graduated from Midland University in May of 2014, and majored in Business Administration with a Concentration in Marketing.
What are you doing now and where?
I, along with my mom, Alice Klitz, and friend, Nikki Hagedorn, recently opened Red Door Coffee in my hometown, West Point, NE. As we began this journey, we knew two things were important to us, delivering a great cup of coffee and creating an atmosphere where anyone feels welcome and comfortable. With this in mind, we chose the name as a red door symbolizes one is welcome and safe. The experience has been incredible, and we are excited to continue to share a cup of warmth with anyone coming through.
How did your experience at Midland prepare you for your career?
Midland taught me to work hard and push myself outside of my comfort zone. I have been able to take this instilled attitude into my career in order to make the most of every experience.
Did a particular faculty member leave a lasting impression on you?
There was not one but many faculty members who left lasting impressions. The entire business department, Mrs. Bristol, Mr. Moxness and Mr. Adamson, not only gave me a core foundation but also pushed me to think outside of the box and try new approaches. It is the extra attention each gave that I am grateful for.
What is your fondest memory of Midland?
Though I have many memories at Midland I will always treasure, the most special was the graduation ceremony. I am fortunate to say I met one of my best friends at Midland, and lucky for us, our maiden names were very similar. This meant that as we lined up for graduation we sat by and received our diplomas right after one another. Being able share each moment of graduation together was so special.
How do you spend your leisure time? Any hobbies?
I love spending time outside whether it is going for a walk, boating or sitting around a bonfire. My husband and I are enjoying a summer filled with camping, grilling and hanging out with friends and family.
List any family information you would like included.
I am recently married to my husband, Logan Owens of Carroll, NE.
How do you stay connected to Midland?
This year I had a pleasure to serve as a young alumni mentor to three freshman students. It was fun experience and brought back many fond memories.
A fun fact about you:
My husband and I celebrated our wedding, birthdays and the coffee shop grand opening in just a months time.