1989 Midland Women's Indoor Track & Field Team | Women of Midland
1989 Midland Women's Indoor Track & Field Team | Women of Midland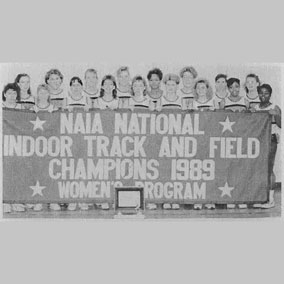 The 1989 Midland Women's Indoor Track and Field Team claimed the NAIA National Indoor Championship title with 64 points. The women's indoor track and field team was, and was the first Midland athletic team in school history to win a national championship. The team had five first place finishes including Distance Medley Relay, the 2 Mile Relay. The 1 Mile Run, the 2 Mile Run and the 3 Mile run. The 2 mile relay set a Midland Lutheran College Indoor record with a time of 9:16.46. Midland also set school records in the 2 mile run (10:23.68) the 3 mile run (16:45.64) and the shot put (44'5"). Head Coach Jim McMahon was named the NAIA Women's National Indoor Coach of the Year and Yvonne Hollman Richardson was named Outstanding Female Performer. Team members and coaches are praised for their achievements on and off the track and for establishing their mark in the athletic history.
---
Share a Woman of Midland Story
Share a story of a Midland woman--professor, staff or family member, alumnus, or friend - to recognize them.
Submit a Woman of Midland Story
---
Make a Gift to the Women of Midland Campaign