Immanuel-Midland Nursing Alumni Association
Immanuel-Midland Nursing Alumni Association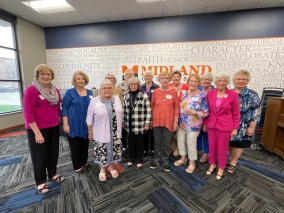 SAVE THE DATE! The 100 Year Anniversary Celebration will be held on Saturday, April 12, 2025.
---
In 1973, Immanuel Hospital School of Nursing joined with Midland Lutheran College and developed a four-year baccalaureate degree program. Today, Midland University's nursing program continues to grow through a balanced blend of liberal arts courses designed to enhance the science and clinical practicum courses of the nursing program. Traditional BSN, LPN to BSN, and RN to BSN are offered, providing a range of program options for nursing students.
The Immanuel-Midland Nursing Alumni Association provides support for projects that will enhance the education of nursing students at Midland University. A nursing reunion is held annually to celebrate the strong heritage built through both the Immanuel and Midland nursing programs.
The association operates solely on annual dues and donations from the nursing alumni. Since 2017, the association has contributed $10,000 to the Simulation Lab located at Methodist Fremont Health and utilized by Midland University nursing students. A Gaumard manikin was purchased to replace an older manikin for the campus nursing lab and arrived March 2023. In April 2023, the association donated $5,000 to the Health Science Building Campaign for naming rights.
A total of $14,800 direct dollars for scholarships has been awarded to 29 Midland University nursing students since 2019.
The Alumni Executive Board represents the Nursing Alumni Association and participates in the annual School of Nursing Commitment Ceremony and the annual Pinning Ceremony. Midland University nursing students are remembered with goodie bags annually. Appreciation is extended to the nursing faculty with small gifts during Nurses' Week. Nursing alumni volunteer as "patients" for various units of study for the student nurses.
Visit the Nursing Scholarships page to learn more about the nursing scholarships available.

---
98th Annual Immanuel-Midland Nursing Alumni Reunion
IMNAA Board Members with New Manikin Donation
2023 IMNAA Scholarship Recipients
Class of 2023 Nursing Students
Executive Board of the Immanuel-Midland Nursing Alumni Association 2023-24
Joan Wellensiek '72, President
Carol Bohling '68, Vice President
Janet Ostransky '66, Secretary/Treasurer
Sherri Adams '65, Member-at- Large
Deb Brester '12, Member-at-Large
Jan Madsen '79, Member-at-Large
Shelli Carper Panning '79, Member-at-Large
Jan Jordan '07, Member-at-Large
Evan Hunt, Midland University Alumni Relations Manager, Ex-officio
Denyse McDonald, Assistant Professor of Nursing - School of Nursing, Ex-officio
Dr. Tesa Keeling, Dean of the College of Health Professionals, Ex-officio
Minutes
Complete board minutes are available by contacting Nursing Alumni Board secretary, Jan Ostransky, at alumni@midlandu.edu.
Constitution and By-Laws
Click here for the Immanuel-Midland Nursing Alumni Association Constitution and By-Laws.
Contact the Immanuel-Midland Nursing Alumni Association
Click here to contact the Immanuel-Midland Nursing Alumni Association or email Evan Hunt, Alumni Relations Manager, at alumni@midlandu.edu.