Luther College
Luther College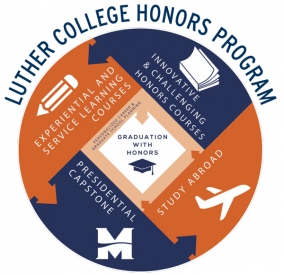 Luther College is a vitally important part of both the history and the future of Midland University.
LutherCollege and Academy were founded in 1883 by Swedish Lutheran immigrants who believed deeply in the importance of education. The college operated in Wahoo, Nebraska until 1962 when it merged with Midland College. The merged institution became Midland Lutheran College. The name was again changed in 2010 to Midland University, recognizing its founding date 1883, the date of Luther's beginnings.
The Luther legacy has been recognized at Midland in a variety of ways, including:
the Luther Library
the Luther Arch near the Library entrance
the biennial celebration and alumni reunions at LutherFest, held on the Midland campus.
Luther College of the Liberal Arts
A new opportunity has arisen to recognize the name "Luther College" at Midland and to make the merger of Midland and Luther even more meaningful for both alumni and students. At the heart of Midland University is a college that prepares students for life, service, leadership, and perspectives enriched by values from the liberal arts and the Christian faith. To recognize the central role of this curriculum in the history of both Luther and Midland, this college is named the Luther College of the Liberal Arts.
Components of the Luther College of the Liberal Arts include a Luther College Honors Program where top-notch students take special courses in the humanities, arts, and sciences, perpetual professorships named after noted former Luther College professors, and perpetual scholarships supported by the Luther Heritage Fund.
For more information contact: Jessica Janssen, Vice President for Institutional Advancement, janssen@midlandu.edu or 402-941-6523.