Christina Remijio '18 | Woman of Midland
Christina Remijio '18 | Woman of Midland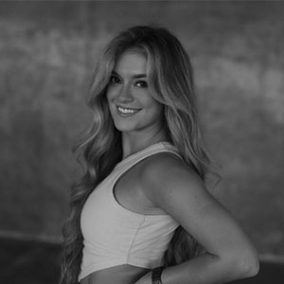 At five years old, Christina Remijio was enrolled in dance lessons and she hasn't stopped since. Dance quickly became the one thing in her life that was truly an escape, while also teaching her important life lessons like self discipline, motivation, resilience, and hard work. "I never had the most elite training, and I was never the best dancer in the room. I knew that if I wanted to go far, I would have to figure it out myself and work twice as hard as the dancers I wanted to be like. I didn't let anything or anyone get in my way, despite the challenges I faced during my developmental years." As a child, Remijio faced a lot of adversity in her home life. She was adopted out of foster care at the age of 15 and knowing exactly what she wanted at a young age, kept her driven and motivated to beat statistics and follow her dreams. During her senior year of high school, Christina auditioned for the University of Kansas dance team. And when she didn't make it, she truly thought my dance career was over. It wasn't until she auditioned for Midland University's Dance team, and was offered a scholarship for dance, that her life was changed for the better. "I had no idea what to expect being on a college dance team. From the early morning practices, competitions, school performances--the new level of work ethic I discovered within myself became a skill I carried on throughout my life to this day. Without my incredible coaches and teammates, I wouldn't have gone on to dance beyond Midland." says Christina. 
After winning a national championship and being recognized on a national level for the first time in her life, she knew she wanted more. The summer after graduation, Remijio auditioned for the LA Clippers Dance Team. While she expected the worst, she trusted herself and her training and made the team. "The LA Clippers opened so many new doors for me as far as getting connected with other dancers, choreographers, and professional dance opportunities. Since then I have performed at live events, danced in music videos, and am continuously on my way to achieve more goals dancing professionally." These opportunities also led Christina to her full time position as the Head Competitive Dance Coach at Hope International University, which is also an NAIA division school which allows her to compete against Midland! "My dance journey is just beginning, and I believe that all it takes to pave the way to your dreams is to have faith, work smart, and go for what you want even when you're scared. I have been bold by just simply not limiting myself to the "what if nots" or my insecurities. How do we know what we are capable of if we never try? One thing I have learned and remind myself of often is that we have to work hard for what we want, and once we get it we have to work twice as hard to keep it. Talent gets you in the room, but hard work and talent keep you in the room. Being a bold woman means to not just accept your life, but to lead it. Obstacles in life happen, but those obstacles don't have to become your life. Be bold enough to know the difference and keep going."
---
Share a Woman of Midland Story
Share a story of a Midland woman--professor, staff or family member, alumnus, or friend - to recognize them.
Submit a Woman of Midland Story
---
Make a Gift to the Women of Midland Campaign