Dani Wooldrik '08 | Woman of Midland
Dani Wooldrik '08 | Woman of Midland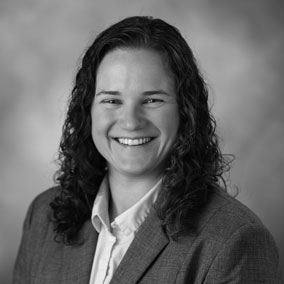 During her time at Midland University, Dr. Dani Wooldrik '08 got an up-close look at both sides of being a physician. Not only did she work as an athletic trainer, but she got the perspective of being a patient as she endured several knee surgeries. "I guess that probably played into me wanting to become a doctor," Wooldrik said with a chuckle. "I actually ended up shadowing a doctor who performed one of my five knee surgeries." Wooldrik has spent the past five years as a Sports Medicine Physician at CHI Health Good Samaritan Hospital in Kearney, Nebraska. Growing up in Scribner, Nebraska and attending Logan View High School, Wooldrik didn't view Midland as her ideal college choice. But a visit from an admissions counselor would change that perception. "Midland was only about 20 minutes from home, which I thought was way too close for me," she said. "We had an admissions counselor from Midland visit our school, and when I saw him several months later at a college fair, he remembered my name, which really struck me. From that point on, I gravitated toward Midland. I was able to do a job shadow in the athletic training department, and after meeting with Coach (Keith) Kramme, I realized there was a spot for me on the softball team. It all fell into place." Wooldrik was a four-year member of the Warrior softball team and was also involved on campus as an Anderson Leader, a member of Pi Epsilon, MASH, and Cardinal Key. 
While she's always had an interest in athletic training, becoming a doctor was not foremost on her mind when she entered Midland. "In high school, I thought I would be a PE teacher and athletic trainer," she said. "I worked as an athletic trainer at Midland, but I started to realize teaching was not what I wanted to do. I enjoyed the medical side of athletic training, but I wanted the full autonomy that came with being a physician." She earned her Doctor of Osteopathic Medicine at A.T. Still University of Health Sciences in Kirksville, Missouri in 2013, then spent three years as a resident physician with Lincoln Medical Education Partnership. Wooldrik was in Wichita, Kansas for a year as a Sports Medicine Fellow with Via Christi Health before settling in Kearney. As a Sports Medicine Physician, Wooldrik focuses on the non-operative side of sports medicine, working with patients on injuries and preventative care that doesn't require surgery. As a former athlete, Wooldrik shares a common thread with many of her patients, and will do her best to keep them in the game. "I had five knee surgeries and was told to hang it up, so I'm a realist when it comes to injuries," she said. "If there's a way we can get them back out playing, without risking life or limb, we're going to help them. I was an athletic trainer, and I was on the sidelines as a player, so I know how to talk to athletes." She has also spent the past five years working as the team physician for the Tri-City Storm hockey squad in Kearney. Not only has she provided medical care during that time, she's also given a few pep talks. "We had a young player from Russia and when he came in for stitches, I told him they were good luck and everyone who gets stitches always scores a goal," she said. "I had barely got the last stitch in him when he went back out on the ice and immediately scored a goal. He made sure he found me afterwards to give me a high five."
Wooldrik forged strong relationships during her time at Midland, many of which continue to this day, with both classmates and mentors. "I would always try and catch up with the softball team while Kramme was still coaching," she said. "He was kind of everybody's dad on the team, and you didn't want to disappoint him. He was one of those coaches that would always check in on you as a person, not just as an athlete. I've stayed in contact with him and I've also got several former teammates and classmates that now work at Midland, so I've stayed connected." Coming from a small rural town, Wooldrik appreciated the close-knit community that exists at Midland. "I visited bigger schools and it just wasn't for me," she said. "Midland has been fantastic and provided me with opportunities to do so many different things."
---
Share a Woman of Midland Story
Share a story of a Midland woman--professor, staff or family member, alumnus, or friend - to recognize them.
Submit a Woman of Midland Story
---
Make a Gift to the Women of Midland Campaign