Dr. Alcyone Scott | Woman of Midland
Dr. Alcyone Scott | Woman of Midland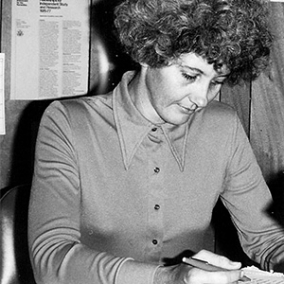 Dr. Scott came to Midland in 1966 and served as a professor of English until her retirement in 2011. Director of Midland's nationally acclaimed humanities program, "Odyssey in the Human Spirit," Scott felt strongly about the merits of a liberal arts education, stating, "To have read the great writers is to know life before you experience it. They give us vicariously the full realm of emotions and indeed they do prepare us for what we will be feeling and comfort us with the exquisite crafting of our common grief or joy."  Well known for her high standards and gregarious nature, Dr. Scott's home had an open-door policy, and students treasured her friendship, vigor, and intellect.
"Dr. Scott brought Shakespeare's works to life for me. Her ability to take my fellow students and I into Shakespeare's world is one of my best memories from my years at Midland. I was also lucky enough to spend Christmas break of 1985 with her at her famous and darling red house. It was as much fun as you think it was! I was dating my now-husband at the time, and the memory of that Christmas break is one of our favorite memories! Two years later, she read at our Christmastime wedding." Angie Bauer Sjuts '88
---
Share a Woman of Midland Story
Share a story of a Midland woman--professor, staff or family member, alumnus, or friend - to recognize them.
Submit a Woman of Midland Story
---
Make a Gift to the Women of Midland Campaign