Emma Oborny '19 | Woman of Midland
Emma Oborny '19 | Woman of Midland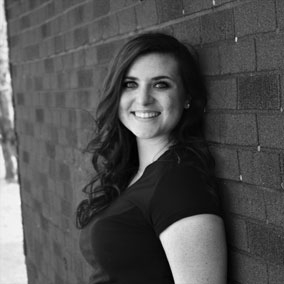 Emma was gearing up to dance competitively at a different university when a torn meniscus forced her to change her plans. She made a last-minute decision to attend Midland and transferred the first day of classes. This seemingly small decision would change her life. While a student at Midland, Emma took many classes to help prepare her for the real world. One monumental class experience came from Nick Schreck's Principles of Selling class her junior year. Her team was tasked with designing and selling Midland apparel. This challenge fueled her love of graphic design and one design in particular caught the eye of the Midland Admissions Department. This blossomed into a whole project outside of the classroom, which Emma tackled happily. Per Nick, "Emma and her team had negotiated a 1,000 shirt order with a customer, but they weren't getting a price break from the vendor we worked with at the time. Instead of just saying 'oh well' and moving on, they asked permission to work with a new vendor and got everything figured out. To date, it's still the largest team order in class." Emma credits a lot of her success to Nick Schreck. "Nick was always pushing me to do my best and challenged me. He seemed to always see something in me that I didn't always see in myself." Her involvement with the business department continues to this day, where she helps both Schreck and Rita Bristol on class projects and speaking engagements. She credits Rita Bristol with encouraging her confidence and fostering her love for photography. Oborny worked closely with Rita on her side business, EJ Photography, sharing ideas, projects, and goals to help ensure success.
As graduation approached, the search for a full-time job began. Emma saw an opportunity for the Director of Communications & Marketing at the Fremont Area Chamber of Commerce. While the demands of a full-time job were too difficult to manage during her final months of school, she made the bold decision to apply anyway. Tara Lea, President & CEO of the Fremont Area Chamber of Commerce, saw something in Emma that she couldn't pass up. Oborny started working part-time with the Chamber during her last semester at Midland and seamlessly transitioned into her full-time role. Tara Lea said "From the moment she walked into our office as an intern I knew she was going to accomplish big things!! Even while she was still a student, Emma immediately took the initiative to start new projects and share innovative ideas!  She required very little guidance but also wasn't afraid to ask for help when needed."
Currently Emma serves as the Business Development & Events Specialist at Midland University. She is heavily involved in the Fremont community where she serves as a Chamber Diplomat, attends many events and ribbon cuttings, and serves as Fremont Area Young Professionals first female President of the Board of Directors. "Without the mentorship of my college professors and past boss, I would not have the confidence and 'I can do it' attitude to accomplish all that I have. To me, being a BOLD woman is setting yourself apart from others. Instead of following everyone else down the common path, you decide to make your own path. Being a bold woman means being aware of possible failure but go after what you want anyway."
---
Share a Woman of Midland Story
Share a story of a Midland woman--professor, staff or family member, alumnus, or friend - to recognize them.
Submit a Woman of Midland Story
---
Make a Gift to the Women of Midland Campaign