Erwin Returns Home As New Men's Basketball Coach At Midland University
Erwin Returns Home As New Men's Basketball Coach At Midland University
Midland University is pleased to announce the addition of Tyler Erwin ('00) as its new Men's Basketball Head Coach. Erwin has spent the past 13 seasons as an assistant coach for Division I University of Nebraska-Omaha.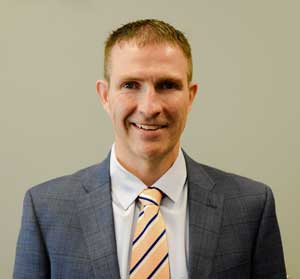 A native of Laurel, Nebraska, Erwin was a four-year letter winner for the Warriors under Coach Rich McGill. During his senior season in 1999-2000, he was an all-conference performer and helped guide Midland to the NAIA National Tournament, the only the second national tourney appearance in program history. After graduating from Midland in 2000, Erwin started his coaching career by serving as the Warriors' junior varsity coach from 2000 to 2003.
"Midland is a special place for me and my family," Erwin said. "People here are very passionate about athletics. Throughout this process, the excitement has been building up and it means the world to me to come back to a place where it all started."
After leaving Midland in 2003, Erwin would have assistant coaching stints at the University of Nebraska-Kearney and Simpson College in Indianola, Iowa, before arriving at UNO in 2009. During his time on the Omaha bench, he helped the program transition from Division II to a Division I program. The Mavericks advanced to a pair of Summit League tournament championship games during his tenure.
Known as a gritty, hard-nosed player during his time as a Warrior, Erwin is hopeful to bring that same mentality as a head coach. "I grew up with a no-excuse mentality," he said. "There are two things you can always control, no matter what walk of life you are in, and that's your energy and effort. I was never the fastest or strongest player, so I had to outwork people. In dire circumstances, you find a way."
Erwin wants to see that energy and effort exhibited on the floor each night, especially on the defensive end. "I consider myself more of an offensive-minded coach, and we love to play fast and get in a high possession game," he said. "But we have to understand that offense will come and go each night, and there are times the ball will go in the hoop, and times it won't. But what has to be there every night is a consistent defensive effort, and from what I've seen, we can take that next step with our defense."
Midland is coming off a 16-14 campaign, 7-13 in the Great Plains Athletic Conference. Before he can concern himself, or his program, with its win-loss record, Erwin's goal is to get the right mentality in place to allow the Warriors to be successful. "We are in this business to win, and I'm coming in here to win games," he said. "If we pound the rock day in and day out, the wins will take care of themselves. We want to get back to the national tournament and compete for conference titles, but before that can happen, there are things we need to work on. We need to build a culture. That's a word that's very important to me, and I want to make sure we build the foundation the right way. We want to recruit the right student-athlete to Midland and do things the right way. It may take a little time, but we're going to get there."
Midland University Director for Athletics Courtney Thomsen believes Erwin is the right fit to help build the Warriors into one of the nation's top programs. "Coach Erwin brings a great deal of passion, knowledge, and experience to Midland University," Thomsen said. "Not only does he understand the history and tradition with the Midland program, but having worked at the highest level in college basketball, he knows what it takes for a program to be successful."
After biding his time as an assistant coach for more than two decades, Erwin is looking forward to putting his own imprint on the Warrior program. "When you're an assistant for 22 years, you pick up a lot of things along the way," he said. "Knowing that I'm now the leader, I can make those decisions and use some of those ideas. I'm so grateful for all the coaches I've worked with who helped me get here, starting with Coach McGill 26 years ago. I'm always a believer that things happen for a reason, and I believe I'm here for a reason."
Erwin received his bachelor's degree in business administration and coaching from Midland and later earned a master's degree in physical education and sports administration from UNK. He was recognized with the Distinguished Young Alumni Award by Midland in 2019. He and his wife, Lindsey, have two daughters.