Joelle Zipp '25 | Woman of Midland
Joelle Zipp '25 | Woman of Midland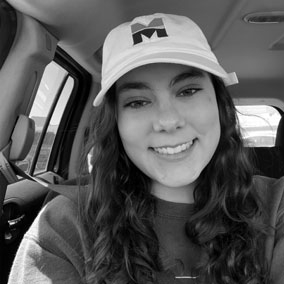 Joelle Zipp '25 took a leap of faith in leaving her hometown of Buckeye, AZ to come to Midland University! She was looking for a small campus that felt like home, but ultimately wanted to find a place where she could achieve both academically and athletically. At Midland, that is definitely possible! To Joelle, being bold means "stepping out of your comfort zone and striving for your future goals, even if those goals are hard to reach." She's a living example of reaching for your goals. As a nursing student, Joelle hopes to use her talents in a hospital setting either in pediatrics or in the surgical unit.
---
Share a Woman of Midland Story
Share a story of a Midland woman--professor, staff or family member, alumnus, or friend - to recognize them.
Submit a Woman of Midland Story
---
Make a Gift to the Women of Midland Campaign