Lorraine L. Reeves
Lorraine L. Reeves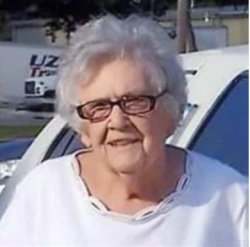 Lorraine Loretta (Gibson) Reeves was born on September 29, 1924 on the family farm near North Bend, Nebraska to Harry and Ruth (Brown) Gibson. The family moved often during those "depression years" but Lorraine attended school wherever they lived. She graduated from Malmo High School and went on to attend Luther College in Wahoo, Nebraska and received her teaching certificate. The following year, Lorraine began her long and dedicated teaching career.

Lorraine married James Stava and they were blessed with a daughter, Judy. James passed away and Lorraine met and married Max Reeves and they were blessed with a son Brad. The family made their home in northeastern Nebraska and Lorraine continued to teach school.

Lorraine died the 3rd of August 2019 at the Life Care Center of Elkhorn, Nebraska at the age of 94 years, 10 months and 5 days. She was preceded in death by her parents Harry and Ruth (Brown) Gibson, a brother Harry Gibson Jr., three sisters Leora Maves, Darleen Ross and Glennietta Bellanti, and husbands James Stava and Max Reeves. Lorraine is survived by her daughter Judy Stava of Sutton, Nebraska, her son and his wife, Brad and Samlee Reeves, Elkhorn, Nebraska, granddaughters Maggie and husband Mike Sowl, Cody, Wyoming, Idamae and husband Clancy McNabb, Clarks, Wyoming, Nancy Griess and fiancée Jason Boyd, Omaha, Nebraska, two great-grandchildren, sisters Twila Miller, Charleston, South Carolina, Debbie Peterson, Bellevue, Nebraska, many nieces and nephews.

Survived by son Brad (Samlee) Reeves of Elkhorn; daughter Judy Stava of Sutton, NE; 3 grandchildren and 2 great grandchildren; Sister Twila Miller of Mt. Pleasant, SC; Debbie Gibson-Rozmajzl-Peterson of Omaha,NE; Visitation Thursday 6 to 8 PM; Funeral Friday 2 PM all at the funeral home. Interment Prospect Hill Cemetery; Memorials to Alzheimer's Assc. condolences towww.reichmuthfuneralhomes.com.
Source: https://www.reichmuthfuneralhomes.com/obituaries/Lorraine-Reeves-2/#!/Obituary