Maria Rosenblatt (1947-1970) | Woman of Midland
Maria Rosenblatt (1947-1970) | Woman of Midland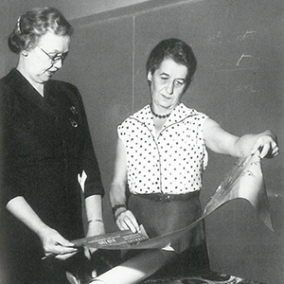 Rosenblatt left war-torn Germany during Hitler's dictatorship in 1935. She taught German and French at Midland for 23 years, until her retirement in 1970. Known for her candid and outspoken nature, she elicited both admiration and respect from her students. "Rosy" as she was affectionately known, was a sponsor of the Tri-Phi sorority and a long-time adviser to the German Club.
"We freshmen were terrified of Professor Maria Rosenblatt, or, as we called her in class, Fraulein Rosenblatt. Mostly we called her "Rosy"—but not in her presence! My roommate, Tom Wold, and I both registered in "Beginning German," and we helped each other in studying. We paired German words with ones in English so that by association we would remember the other. Wieder, meaning "again," we linked to our exclamations upon entering the cafeteria, "Wieners again?" When it came to the vocabulary quiz, I drew a blank, and put down the only word I could remember. Professor Rossenblatt singled out my paper and went on and on about it. She just couldn't figure out why anyone would write down "hotdog" for wieder. Our terror gradually evolved into affection for her, and despite that fact that I was a Chemistry Major, I wound up taking three years of German. I can still sing all the stanzas of Heidenröslein." Ernst Tonsing '59
---
Share a Woman of Midland Story
Share a story of a Midland woman--professor, staff or family member, alumnus, or friend - to recognize them.
Submit a Woman of Midland Story
---
Make a Gift to the Women of Midland Campaign