Marilyn Peterson (1964-1994) | Woman of Midland
Marilyn Peterson (1964-1994) | Woman of Midland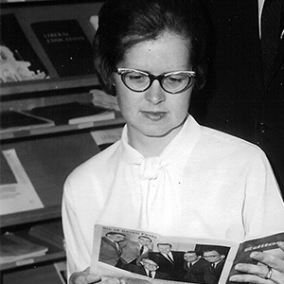 Peterson began her tenure at Midland in 1964, serving as Associate Professor of Journalism & English/Department Chair. At Midland, Peterson established the journalism major and built the journalism program into a highly respected and quality department, producing outstanding yearbooks and newspapers, and instilling journalistic excellence in her graduates. Upon her retirement in 1994, she was inducted into the National Journalism Hall of Fame. Affectionately known as "Mrs. P" by her students, Peterson was a fun-loving and nurturing instructor who was a stickler for journalistic excellence. During her tenure, The Midland campus newspaper received 43 All-America ratings and first place in the Scholastic Newspaper Awards. Along with producing outstanding publications, Peterson had a hand in producing many exceptional journalism graduates.
"I enrolled at Midland with the intention of becoming a high school English teacher.  Marilyn Peterson suggested to my mother, who was faculty secretary at the college, that I take the Introduction to Journalism course as a freshman, which ultimately set the course for my college career and professional life as a newspaper reporter, marketing, and public relations manager and fundraiser.   Marilyn was the architect of a world-class journalism program at Midland, which repeatedly earned national recognition for excellence.  I benefited from being her student, academic advisee, and student assistant.  Marilyn taught me and scores of other students the ropes as journalists, but more importantly, the value of striving for the best in everything we did, maintaining a strong ethical core, and approaching life with a sense of excitement and fun.  I always will cherish Marilyn as an invaluable mentor and wonderful friend." Roger Lewis '71
---
Share a Woman of Midland Story
Share a story of a Midland woman--professor, staff or family member, alumnus, or friend - to recognize them.
Submit a Woman of Midland Story
---
Make a Gift to the Women of Midland Campaign