Martha Foxall (1974-80) | Woman of Midland
Martha Foxall (1974-80) | Woman of Midland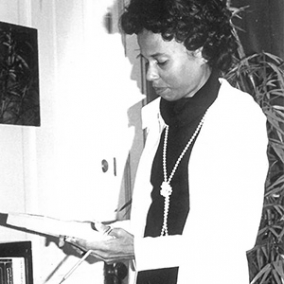 In 1974, associate director of nursing Martha Foxall, along with director Kathleen Cheney, began the rigorous task of implementing a baccalaureate degree nursing program at Midland after the college took over the nursing diploma program from Immanuel Hospital's School of Nursing. Under the leadership of the two women, the nursing program at Midland thrived–growing in size, scope, and prestige and producing five nurses of the year during its first several years of existence.
Foxall was named associate director of Midland's nursing program in 1974, after transitioning out of her role as assistant director of the Immanuel Hospital School of Nursing. Foxall taught obstetrics at Midland for many years and is credited, along with Cheney, for building the nursing program at Midland into one of excellence.
"I have utmost respect and admiration for Martha Foxall. She taught obstetrics to me and many other student nurses at Immanuel Hospital School of Nursing and then later at Midland Lutheran College. She was an extraordinary, brilliant nursing instructor. Mrs. Foxall was beloved by many for her firm, fair, and consistent teaching manner." Carol Bohling I'68
---
Share a Woman of Midland Story
Share a story of a Midland woman--professor, staff or family member, alumnus, or friend - to recognize them.
Submit a Woman of Midland Story
---
Make a Gift to the Women of Midland Campaign