Martha Peters '34 (1934-1994) | Woman of Midland
Martha Peters '34 (1934-1994) | Woman of Midland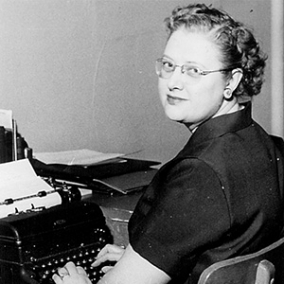 Martha Peters' association with Midland first as a student, then as a dedicated staff member, spanned 62 years. She was a student in the early '30s, and in 1932-33 she was the first female editor of The Midland. Shortly after graduating in 1934, she returned to campus as an assistant to the publicity director, and in 1939 she assumed the responsibilities of the president's secretary, continuing in that capacity until she retired in 1994. From 1937 until her retirement she served as sponsor of the Phi Omega sorority, touching the lives of hundreds of Midland women.
"As Martha Peters served as secretary for six presidents, she also was co-founder and sponsor of the Phi Omega Sorority for forty years. Midland was her life and through the sorority we were like her daughters. Martha had many wonderful qualities in graciously leading us with insight into handling situations. She displayed a warm and positive personality. Martha's impact continues to be an influence to many of the sisters today. We are grateful for her time, dedication and love through the years." Sherie Ebers '68
---
Share a Woman of Midland Story
Share a story of a Midland woman--professor, staff or family member, alumnus, or friend - to recognize them.
Submit a Woman of Midland Story
---
Make a Gift to the Women of Midland Campaign