Sara Hawkinson '33 (1927-1962) | Woman of Midland
Sara Hawkinson '33 (1927-1962) | Woman of Midland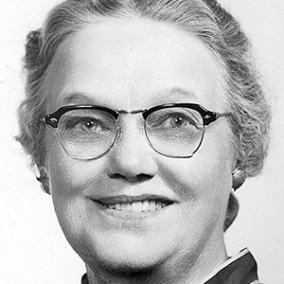 Hawkinson, who is listed under the college educators division in the Who's Who of American Women, came to Midland in 1927 and served as director of dramatics and speech until her retirement in 1962. Among her contributions was a culture of excellence in performing arts on campus–a culture that still exists today–including outstanding productions of many of Shakespeare's best-known plays. She was well known for her ability to do a lot with very little, and created an "outstanding department of dramatics with graduates that were in high demand."
Hawkinson, along with Meta Zimmerman, organized the Midland Chapter of Cardinal Key, a national honor society for women. In her succeeding years at Midland, Sara served as a faculty advisor to the chapter, which holds the record for the longest continuous existence of any Cardinal Key Chapter in the nation.
"I met Sara Hawkinson in September of 1952. She was greeting incoming freshmen and I immediately knew I would like her because I could see she liked students. I did not know then that she headed the theater department. Later, when I was doing poorly in my chosen major, I switched to theater. It turned out to be one of the best and most life changing decisions of my life. Sara was a great teacher, director and mentor. Without me knowing it, she arranged a place for me in the RED ROCKS theater company (a position I later turned down to go into the ministry). She even took into her home two freshmen co-eds due to a shortage of dormitory rooms (one of which would later become my wife). Not many come along like Sara. She stands like a giant within the faculty and heritage of Midland University." Dave Gieschen '56
---
Share a Woman of Midland Story
Share a story of a Midland woman--professor, staff or family member, alumnus, or friend - to recognize them.
Submit a Woman of Midland Story
---
Make a Gift to the Women of Midland Campaign