Women of Midland
"Bold Women" 2nd Annual Women of Midland Campaign
The Women of Midland campaign is a fundraising and storytelling initiative held during Women's History Month that aims to recognize past and present women of Midland and raise scholarship support to impact future generations of women students at Midland University. The "Bold Women" campaign aims to raise $100,000 again in 2023 for the Women of Midland Scholarship Fund in honor of bold women who forged paths to become the first in their fields to achieve a goal, to encourage future women to be bold, courageous, and be inspired to become a "first."
Women of Midland Scholarship Fund
The Women of Midland Scholarship Fund was created to celebrate 140 years of women at Midland University. Through this new scholarship fund, we hope to inspire and support the next generation of women at Midland by supporting traditional or non-traditional female students of Midland University's undergraduate programs.
How You Can Get Involved in This Exciting Campaign
Make a gift to the Women of Midland Scholarship Fund in honor of a bold woman who impacted your life.
Share a story of a Midland woman--professor, staff or family member, alumnus, or friend - to recognize them.
Spread the word, and encourage others to give and share stories
Contact us to learn more about starting a scholarship, contributing to a special project or existing scholarship, or making a planned gift.
Bold Women of Midland Spotlights
In 2023, we celebrate bold women. These are the women who forged paths, displayed courage, pressed on, and blazed trails for future generations. Many of these women were the first in their fields to succeed. Who do you know was the first woman in their field to achieve a goal no one thought they would?
2022 Women of Midland Spotlights
Midland's women of impact emphasized academic achievement, personalized interaction, and spiritual enhancement. Our alumni wear signature imprints from their interactions with them. Click on the photographs to read more about each "Woman of Midland".
Thank You to the Women of Midland Campaign Donors
Jennifer Bixby
Carol Bohling
In honor of Dr. Linda Quinn
Peggy Cunningham
For all of the women who encouraged and inspired me.
Larry & Laurel Erickson
In memory of my mother, a Luther Academy graduate, who impacted my life
Polly Hagerty
Carl Hansen
In honor of Betty Hansen - A proud supporter of Midland Women
Jody Horner
Laura (Robinett) Jensen
In Honor of all the amazing women at Midland I get to work with everyday!
Tracy Kochenderfer
In honor of those innovative, brilliant, and strong Midland women that have shown the world that we are capable of anything.
Sherry Koehler
In honor of Joanne Bracker
Carolyn Lack
In honor of Ruth Lund
Anna O'Reilly
In honor of all the strong female leaders at Midland!
Steven Oursler
In honor of Kristen Drake
Joyce (Grimes) Robatcek
In honor of Alcyone Scott
Martin & Lori Russell
In honor of Colleen (Bonderson) Russell, who truly embodied Midland's values: Faith, Quality, Respect, Stewardship & Learning.
Jamie Simpson
Bob & Carol Taylor
In memory of Judy Moore, Mary Currier, and Matt Currier
Eric Taylor
In honor of Kim, Sydney, Lori, Alyse, Reese, Kaitlynn, and Madison. I feel blessed and fortunate to have the opportunity to work with such outstanding women every day in the Marketing/Communications department.
Courtney Thomsen
Beverly Vitamvas
In honor of all women who have attended Midland since it opened.
Emily Wageman
Susan Wood
In honor of Pat Trautrimas and Alcyone Scott
Dani Wooldrik
Women of Midland Stories
Read inspirational stories about women, shared by alumni and friends. Who do you know was the first woman in their field to achieve a goal? Who do you know was the first woman in your family to get a college degree? Who do you know was a bold and courageous woman who paved the way and inspired you? To share a story about a Midland woman, please complete the Women of Midland Stories Form.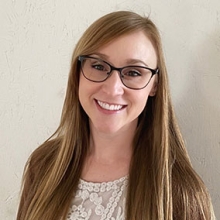 Desiree (Davis) Dawson '14
Desiree is a Board Certified Behavior Analyst who has been leading licensure efforts for behavior analysts in the state of Nebraska, pursuing her doctorate, and providing high-quality behavior analytic services to children with intellectual and developmental disabilities.

As a leader in licensure efforts, Desiree has worked tirelessly to promote the regulation of behavior analysis, ensuring that practitioners are held to high standards of ethical and professional conduct. Her efforts have led the practice act for behavior analysts to the floor of the Nebraska Legislature.

Desiree also demonstrates her passion for the growth of behavior analysis by serving as a teaching assistant for master's students in UNO/UNMC's Masters in Applied Behavior Analysis program. Desiree also serves as the continuing education coordinator for the Nebraska Association of Behavior Analysis, dedicating her time to assisting with continuing education of practicing behavior analysts in Nebraska.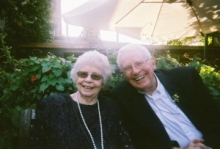 The most important Midland Woman in my life was my beloved wife, Betty Hansen, who passed away in 2021. For nearly 20 years, she was my support, cheerleader, and true "help-mate" in the years I was president of Midland Lutheran College. She made home a welcome respite in times of challenge and a home or celebration in times of success. She always there for our children and me .... as well engaged in all aspects of campus life. She loved being an active member of Midland Women, cheering on Midland Athletics, musical and drama events, an opening our home to Midland students -- especially on Thanksgiving and Christmas for those who could not travel to their own homes on the holidays.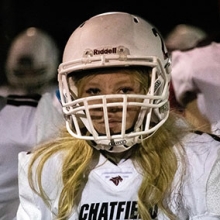 Emma Strom, a freshman at Midland University, was a barrier breaking athlete in Colorado for women in football. She was the first female skill player to win a state title in football. Emma was a leader on and off the field for her team and school. Her athletic achievements guided many other young girls to be brave and join football the following year when her high-school offered their first ever female flag football team.
Make a Gift to Support the Women of Midland Campaign
Total Raised
$8,280